Costume Design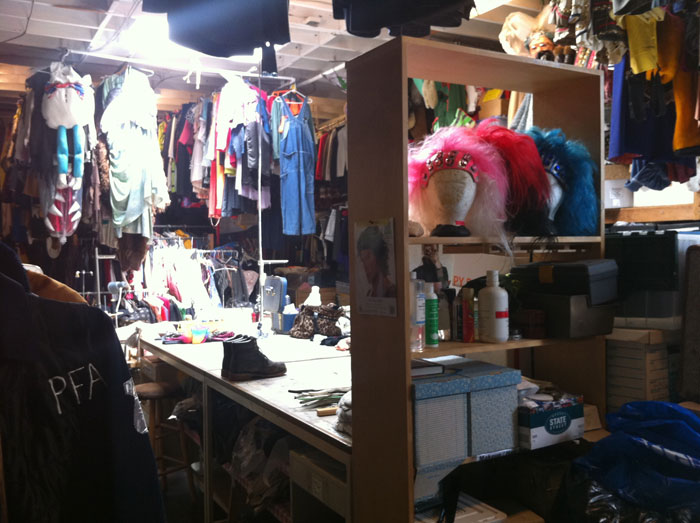 Youth Theatre Project 2011

Friday & Saturday, April 15 & 16, 7pm, Cellspace, SF

featuring two original plays:
"Not With a Fizzle, but With a Bang"
At the trendy and corporate-sponsored dance club, Sassy But Classy, dancers are rehearsing for their next big number. But the club's management is comprised of bullies, and the dancers finally decide that they have suffered enough! What will become of their revolt? Whatever happens, these talented folks are determined to show the corporate hierarchy how to run a welcoming community space, not with a fizzle, but with a BANG!
For show pictures, click here

"And Then There was Derek"
A cautionary comedy about a young woman, Taishay, in the year 2040. After the election of 2012, a pro-life, conservative wave took over the country. With abortion now illegal, what does Taishay do when she accidentally gets pregnant? Will she give up her dream of going to college? Will her new boyfriend do the right thing? And does she even have a choice?
For show pictures, click here

11th Annual SFMT Youth Theater Program
The Brava Theater Center
2781 24th Street, SF
Two Free Shows, April 11 (7pm) & 12 (1pm & 6pm)

for more info click here
for costume pictures click here

10th Annual SFMT Youth Theater Program
Mission Cultural Center
Two Free Shows, March 30 & 31
for more info click here





9th Annual San Francisco Mime Troupe Youth Theater Project
Costume Design


Mission Cultural Center
2868 Mission Street (@ 24th)
8pm, Saturday April 1st
2pm, Sunday, April 2nd



8th Annual Youth Theater Festival
San Francisco Mime Troupe
Costume Designer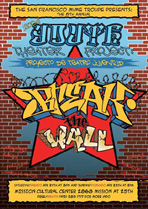 Over the last six weeks, our studio has been filled with the enthusiasm, energy and talent of 30 high school students participating in our 8th Annual Youth Theater Project.

Break The Wall, is the culmination of their hard work. All three of the plays in this year's festival deal with breaking down the walls that prevent us from having a less violent, more compassionate society. The plays will be performed
with professional production values, including
costumes, sets, lighting, and a live DJ.
Come check it out! Every year audiences are blown-away
by the raw talent and honesty,
and this year will be no exception.
TITLE: Break The Wall, San Francisco Mime Troupe's Youth Theatre Project

DATES: April 24th, 2004 at 8PM
and April 25th, 2004 at 2PM

VENUE: Mission Cultural Center
2868 Mission Street
San Francisco, CA 94100

COST: FREE

INFO: 415-285-1717, office@sfmt.org or www.sfmt.org
The 7th Annual
YOUTH THEATER FESTIVAL
2003

for details go to
http://www.sfmt.org/youththeaterproject.html
costume designer




The festival is the culmination of the San Francisco Mime Troupe's Youth
Theater Project, a two-month playmaking workshop in which
high school students create plays about the issues
that are important to them.

This year's Festival presents three original plays
performed with professional production values supplied by the Troupe's
designers, crew, and live band.

Come experience the raw talent of the City's youth as they
connect the dots between
CONFLICTS: NEAR AND FAR!

SATURDAY, APRIL 12TH @ 7PM
SUNDAY, APRIL 13TH @ 2PM
(Catered reception following Sunday performance)

FREE TO THE PUBLIC!

The Diego Rivera Theater
City College, Main Campus
50 Phelan Street, SF
Parking lot entrance on Judson at Phelan



***
GETTING REAL
costume designer
A Play about Hope, Tolerence & Critical Choices
a joint production between the San Francisco Mime Troupe and San Francisco State University
Spring 2001
***
The 6th Annual
YOUTH THEATER FESTIVAL
costume designer

A joint project between the SF Mime Troupe & SF State
At the Mission Cultural Center, SF

for details go to
http://www.sfmt.org/youththeaterproject.html
go

for more